Commercial Roof Ice Removal Services
Roof snow removal from pitched or flat surfaces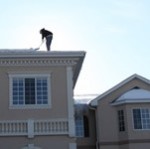 Aside from changes to the ventilation and insulation systems, clearing snow from the roof is the most effective method of ice dam prevention.
We have removed snow from roofs as large of 50,000 square feet and as small as a heated shed. Larger roofs usually require two or three crews, a crane and multiple walk-behind snow movers.  Either way, there is no project too large, or too small.
---
Ice removal Services from vertical surfaces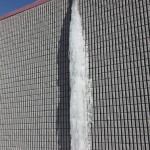 We have performed ice removal services from wall drains and commercial downspouts many times. It is not uncommon for these columns of ice to weigh over 2000 lbs, making them a real hazard to people and property on commercial and retail properties.
---
Roof Ice removal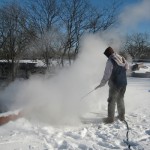 Ice frequently builds up on flat and low-pitch roofs, resulting in excessive weight loads and potential water damage. The simplest solution is roof ice removal with steam.
---
Ice removal from public walkways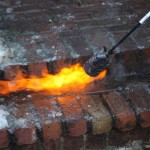 We have been called in to remove accumulations of ice where it might create a public liability, such as sidewalks and stairs. Again, heat and steam do the trick.
---
Snow and ice restraint systems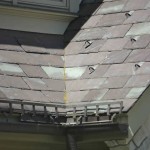 Sometimes roof ice removal Falling ice and snow presents a particular set of concerns for owners of commercial properties.  Specifically, the concern about being sued. A few strategically placed snow and ice restraints can go a long way towards minimizing liability, both perceived and real.
---
Safety systems and signs for trouble areas
Sometimes the particular architecture of a building means that there will be a potentially hazardous area off and on throughout the winter.  Think of a roof scupper draining off the north side of a building onto a sidewalk.  We have been asked to build temporary raised sidewalks and basic railing systems to address this very situation. We also provide warning signs to raise awareness of potentially icy areas.