Ice Dam Prevention
Prevent Ice Dams before they form and cause problems.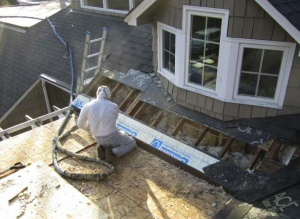 While removing ice dams is important, the best offense is a good defense: you wanna prevent ice dams. If you are interested in never hiring us to remove ice dams from your home again, you'll want to address the root causes of your ice dams.  Ice dam prevention work involves the coordination of some or all of the following trade professionals: Carpenters, roofers, insulators, home inspectors, plumbers and electricians.
When preventing ice dams is your goal, many aspects that require focus are the same things that one would analyze for a general energy audit. This is because: the single most contributing factor to the formation of ice dams (that can be controlled) is warm air escaping your house. In addition to that, making sure warm air escaping into the attic does not linger is also essential to prevent ice dams. More on how ice dams form here.
There can also be specific conditions or designs that can be more prone to the formation of ice dams. When considering ice dam prevention we take into account all of these factors and devise a plan for preventing ice dams from forming.
---
Here are a few of the services we offer towards the prevention of ice dams:
Inspections: The key to any long term solution to ice dams is a thorough analysis and a expert plan for resolution.  We have an on-staff Minnesota State Cetrified Energy Auditor and over 20 years of expertise inspecting + diagnosing problems with moisture and ice forming on and around the roof. For more general based inspections we work with two inspectors in town: Reuben Saltzman, of Structure Tech (www.structuretech1.com), and Roger Hankey, of Hankey & Brown (http://www.hankeyandbrown.com).  We partner with these companies to analyze your home through a variety of inspection methods to determine why ice dams are happening.  We use thermal imaging cameras, blower door tests and hard-earned expertise to evaluate the basics such as how heat and air move through your home.  Step one in ice dam prevention: Expert Inspection.
Ice Dam Solutions: Once we know why your home is troubled with ice dams we recommend one or more specific solutions for preventing ice dams with itemized costs in a written proposal.  This often involves components such as air gap sealing, insulation and ventilation. We also frequently modify roof systems by altering the quantity, type and location of the ventilation. We are the only company in the United States that offers all of these services under one roof, with a single point of accountability and an in-house architect to ensure proper execution.
Roof Snow Removal: Homes prone to the formation of ice dams need to be proactive when snow accumulates. In these situations, preventing ice dams means: getting snow off the roof. If there's no snow on the roof, ice dams are less likely to form. The Ice Dam company offers Professional Roof Snow Removal to do just this.
Heat Cable: We install heat cables, heated mesh and heated pans to manage ice that just keeps coming back.  We work with our electricians, gutter contractors and roofers to see that it all happens correctly.  We only use heavy-duty, professional-grade heat cables as they are the most reliable and highest quality cable on the market.  When ice dam prevention is not feasible, sometimes heat cable is the only answer.
---
How Not to Prevent Ice Dams:
There are a few home-remedy solutions that people use to prevent ice dams from forming or to reduce ice dams that have already formed. We recommend against using ground salt, salt socks, salt pucks, etc. for preventing ice dams, because of the corrosive nature of sodium on many materials like cement and metal. What little success these products produce in the realm of ice dam prevention is offset by the damage they can cause.
---
The best defense against ice dams is to prevent ice dams from ever happening. In some situations, preventing ice dams is easier then others. Our knowledge and experience gives us a unique  insight regarding how ice dams form, and how to prevent them.