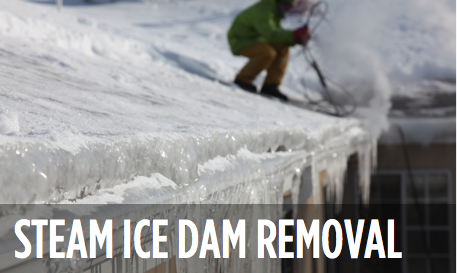 Ice Dam Removal with Steam
No one has removed more ice dams in the United States than The Ice Dam Company. We're proud of that. We use steam remove ice dams from roofs and gutters, primarily in Minnesota. Our crews are not unemployed landscapers, painters or handymen. We use our own professional roofers, borrowed from our sister company, Kuhl's Contracting, to perform every ice dam removal we do. Beyond steaming ice dams, no other company in the country can offer the wide array of expertise in diagnosing ice dams through in-house expertise.
If you have damaged caused by ice dams, no problem. We have a division dedicated to insurance restoration, including a former insurance adjuster of 31 years on staff. We work directly with your insurance company to see that your home is brought back to perfect condition and we do so using the horse power and integrity of Kuhl Design Build, a nationally recognized and awarded remodeling firm. We are uniquely qualified to help you figure out why you get ice dams and how best to prevent them in the future. We have a Minnesota State Certified energy auditor on staff who can help you understand why your home gets ice dams and what can be done about it.
We are insured, licensed and even more important, we are ethical in how we do our job. There are many ways to be scammed in this industry and we have seen it all. Know that when you hire The Ice Dam Company you are hiring  a company bound by the ties of a quarter century of high integrity in our community.
Learn More About Our Ice Dam Removal Services
Related:
See Also: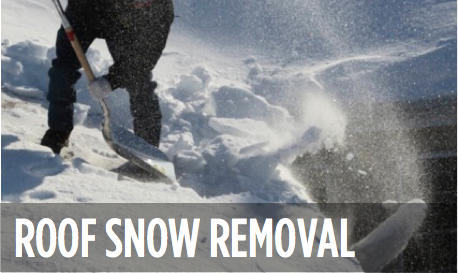 Roof Snow Removal
We are hired by many homeowners to help prevent ice dams through roof snow shoveling each year. In fact, many snow birds have us on contract to shovel their roofs after each significant snowfall automatically. We work on a pay-per-visit basis or a contract roof shoveling basis. The choice is yours. The bottom line is that removing snow from your roof will greatly reduce if not eliminate the likelihood of ice dams.
Roof shoveling should be performed by experienced labor. It may seem like monkey work, but it is most certainly not. For example, it's quite easy to damage a roof by using the wrong equipment or wrong technique. As the sister company of one of the largest residential roofing businesses in Minnesota, we repair roofs damaged by 'professional' roof shovelers every summer after the snow melts away to reveal their incompetence. Shoveling snow from roofs should be done by professionals who are experienced, licensed and insured for your protection. That's us.
Learn More About Our Roof Snow Removal Services
Related:
 See Also: