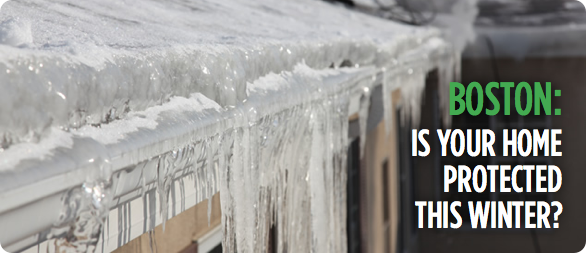 Last winter was tough. While removing ice dams in Boston we saw lots of water damage to homes as a result of some of the worst dams we've seen in the past 25 years.
Ideally, ice dams are best handled before they become a problem. That said, some ice dams are difficult to prevent altogether and can require extensive architectural adjustments including insulation and ventilation. Such is the case with many Boston area homes where it is not uncommon to see structures built more than 100 years ago. In situations where architectural modifications are exceedingly expensive, there is another option to ice dam prevention; Heat Cables.
Ice Dam Heat Cables.
Heat cables assist in protecting your home from ice dam water damage by creating a channel in the ice dam which allows water escape off the roof. The trick is, you need to install the right cable. For an example of the wrong cable all you need to do is visit your local big box retailer.
---
Our Ice Dam Heat Cable Products
In the 25 years that we've been removing ice dams from homes in Minnesota, we've learned a lot about preventing damage that can occur from ice dams. In that time we have also learned quite a bit about how to use heat cables to control ice dams. The Ice Dam Company offers the best, most effective self-regulating Ice Dam heat cable on the market.
More About Our Ice Dam Heat Cables Here
---
Q & A
Why do Ice Dams Occur?
Ice dams occur when the accumulation of snow on rooftops melts and then refreezes at the eve of the house, forming a dam. This causes water to back up behind the ice and permeate the roof, causing water damage in the homes interior.  More on ice dams and how they occur here
How can Heat Cables Protect me from Ice Dams?
Heat cables don't prevent ice dams. What they do, however, is create channels in the ice dam which allow water to pass through the dam and away from your home (if you have gutters, they also allow the gutter system to function in this capacity).
Can't I just buy Heat Cable / Heat Tape from a Big Box Store?
You can. But you'll be disappointed that you did. The low-quality cables sold at big box stores are flimsy, are limited in their ability to reach an effective melting temperature and they break down over time having to be replaced sooner then they should.  Learn More About Our Cable Vs. Cheap Cable
Their cable is not self-regulating, meaning it draws continuous power (it's always on) costing you a lot in electric bills. Our cable is self-regulating, drawing more power only when the temperatures are in a range where ice can form.  Learn More About Self-Regulating Ice Dam Heat Cable
---
Measuring and Installation
How Do I know How Much Heat Cable I Need?
You can use our handy online heat cable calculator to determine how much heat cable and suggested accessories you need for your Heat Cable Installation. Make sure you have accurate measurements of your home to put into the calculator. You can always call us for help in placing your order too. Another advantage of working with The Ice Dam Company for your heat cable needs. Yes, there are real humans on the other end of this email.
Who Should I have Install the Heat Cable?
Installing heat cable requires being up on your roof and some specific knowledge of the product and installation methods. We therefore do not recommend this work for homeowners. Depending on response we may be sending a couple of our experienced installation crews back to your fine city this fall. If we do not come to Boston, you should call around to find a company that has a long history with heat cable installations (not a handyman or a roofer who says "he can figure it out"). We are always available for technical consultations for contractors working with our product.
If you are interested in our install services for your projects, click here.