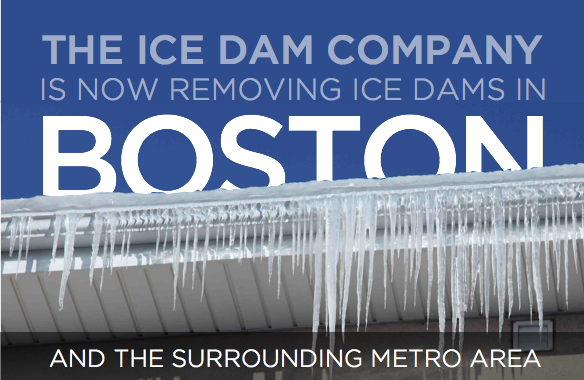 Ice Dam Company in Boston.
Boston Ice Dam Removal
The country's largest ice dam removal company is coming to Massachusetts to help remove ice dams. We have mobilized 8 of our hard-working Minnesota ice dam crews to head your way to help remove your ice dams using the safest, most efficient steaming technology available. Click here to learn more about steaming ice dams. We have experienced an unprecedented demand for ice dam removal requests from the people of Boston and surrounding areas so we have decided to send our best guys to help.
Wicked Smart Ice Dam Experts
The Ice Dam company is the largest Ice Dam Removal company in the US. In Minnesota, snow and persistent sub-zero weather conditions make ice dams a part of winter life, and we've been removing ice dams for over 20 years. No one knows more about the formation of ice on your roof then the Ice Dam Company. Beyond expert ice dam removers, we are licensed roofers, certified energy + insulation auditors, and construction experts. We are also a national authority on installing ice dam heat cables to assist in the prevention of damage that can occur from ice dams.
Removing Boston Ice Dams with Steam
We will be accepting new ice dam removal appointments starting Saturday, February 21st. Please call us for current rates and availability as our crews will be fully booked quickly.
Ice Dam Company in Boston
Ice dams in Boston have hit hard this season. But we're here to help. We've mobilized several of our ice dam removal crews to the Boston area to help remove ice dams. We are the best at what we do, and right now Boston needs it. To contact the ice dam company for your Boston Ice Dam removal click here.