CLICK HERE TO BUY ROOF CLIPS FOR SLATE ROOF HEAT CABLE INSTALLATION
We sell a huge amount of heat cable clips for ice dam heat cables and roof deicing cables. Most of the roof deicing heat cable clips we sell relate to new ice dam prevention heat cables. Many of the clips we sell, however, relate to people needing replacement ice then heat cable clips.  For example, in the case of a reroofing project, the roofer often removes the existing ice dam deicing cable system and neglects to keep the clips.  A bit of a bummer, but they are easy enough to replace.
One of the less common roof deicing cable clip is made for slate roof applications. Slate roof ice dam cable clips are quite different than standard heat cable installation clips. Here is a photo of the two side-by-side: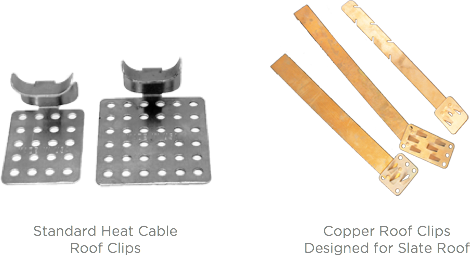 ---
Slate roof heat cable clips, also known as slate roof ice dam cable brackets, are far more expensive than standard ice dam heat cable clips. Check for current pricing in our store. Right now our prices for ice dam heat cable clips are as follows: $40 for a box of 25 standard heat cable clips. Slate roof deicing cable clips cost $20 per piece.
Installing heat cables on a slate roof requires special expertise and special accessories. Standard roof deicing projects are often far more affordable based on the clip cost alone.
---