A Simple Explanation of Where the Water Goes When Ice Dams Cause Leaks
Where the Water Travels:
Water hitting the Top Plate of the wall (A) spreads out across the top plate, travels downward with gravity, working behind the Siding (B) the Housewrap (C), the Insulation (D), the Vapor Barrier (E) and the Drywall (F). Water always seeks the path of least resistance and therefore frequently shows up through existing penetrations in the ceiling such as lights. Water leaks caused by ice dams can travel many feet from the source before manifesting inside the home. On homes built with vapor barriers on top of the ceiling finish, water will sit on top of the drywall and soak the insulation before leaking inside.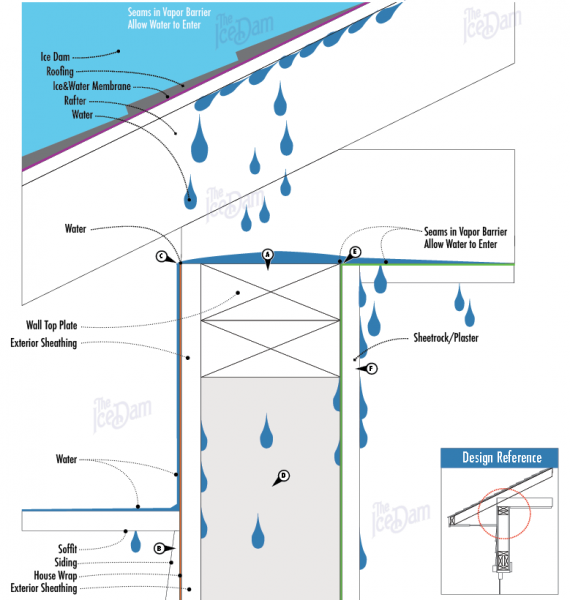 To read more Case Studies click here.
---
Tags: about ice dams, best ice dam removal in minneapolis, best rated ice dam removal contractor, edina ice dam removal, edina ice dam steaming, heat tape, heat tape ice dam, heat tape ice dam prevention, highest rated ice dam removal company in minneapolis, how do I know I have ice dams, how to tell if an ice dam is a problem, ice and snow removal, ice dam heat cable, orono ice dam removal, twin cities ice dam remover, wayzata ice dam removal