Here is why it makes sense to hire professional roofers to remove your ice dams. It's true. Most of our competitors are not roofers, nor do they understand residential construction.
Today one of our guys found a massive install error on a low-pitch rolled asphalt roof in Minneapolis. The client had no idea, and nor would any of our competitors who are not construction pros. The original roof installer failed to use adhesive between the roofing plies! (Photo 3, Point E) and no ice and water membrane whatsoever (Photo 3, Point F). That's a major no-no. They also had all of the penetrations negatively lapped (sequenced into the asphalt improperly) (Photo 4, Point D). Good catch Paul!
The client with the roof leak in Minneapolis illustrated here called due to water pouring in through a light fixture under Point A, Photo 1. This by itself is not unusual. Roof leaks caused by ice dams often manifest many feet away from the source; sometimes a full story or two below the source. My initial theory was that water was traveling down the exterior wall of the shed dormer shown in Photo A. As it turns out, there was something more pernicious happening. The water was being pushed under an improperly flashed plumbing stack (Photo 2, Point B). While exploring the area our crews also noted the lack of lap sealant between the roofing plies (Photo 2, Point B and Photo 3, Point E).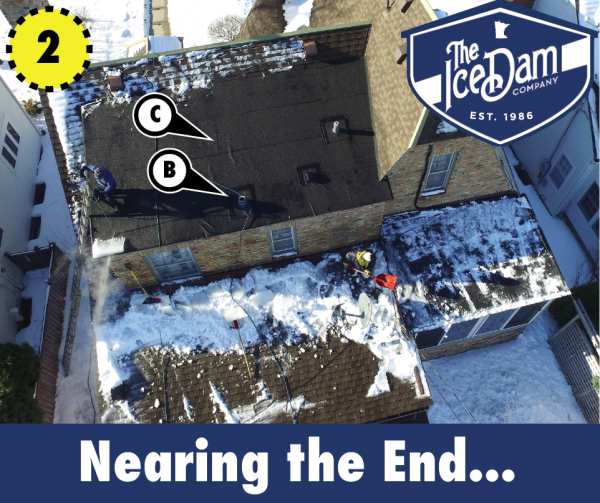 This homeowner had used one of our largest competitors in town in 2014 to remove an ice dam (see highest ranking Google result). Guess what? They said nothing about the roofing defect. No big surprise because frankly, how would they know? They aren't construction professionals, just ice dam removal guys who squirt ice off roofs with high-temperature pressure washers (not steamers!) (Click here to see the difference). We have seen this exact scenario play out countless times and to be honest, it's frustrating to watch.
The Ice Dam Company is in fact the only company in the country with the in-house chops to diagnose and address problems with insulation, ventilation, roofing, sheet metal and other exterior envelope components. We also install miles of self-regulating heat cable each year on homes where the aforementioned architectural solutions are not appropriate or feasible. Most ice dam removal guys just use their pressure washers to squirt ice off the roof and that's the end of it. For us, ice dam removal projects are often just the beginning of a longterm relationship with our clients. We end up remodeling their kitchen or adding onto their house through our sister company Kuhl Design + Build, a nationally recognized, award winning remodeling firm. The Ice Dam Company is a division of Kuhl's Contracting, the third largest residential construction and remodeling company in Minnesota. There is a huge amount of cross-pollenization between the organizations. Each benefits from the resources and talents of the other. It's fun to witness.
---
Tags: about ice dams, highest rated ice dam removal company in minneapolis, ice and snow removal, ice dam expert, ice dam heat cable, Ice dam Steaming, ice removal company, ice removal professionals, is my ice dam bad, minneapolis ice dam prevention, minneapolis ice dam removal, Minnesota's Ice Dam Removal Jerks, signs of an ice dam problem, twin cities ice dam remover